Uses of PHP
---
---
Uses of PHP
PHP is a scripting language generally used to make websites. PHP is mainly used for design server side applications. Actually PHP is a server side scripting language which is used for connect Web Page with a DataBase such as asp or jsp. Some basic uses of PHP are given below;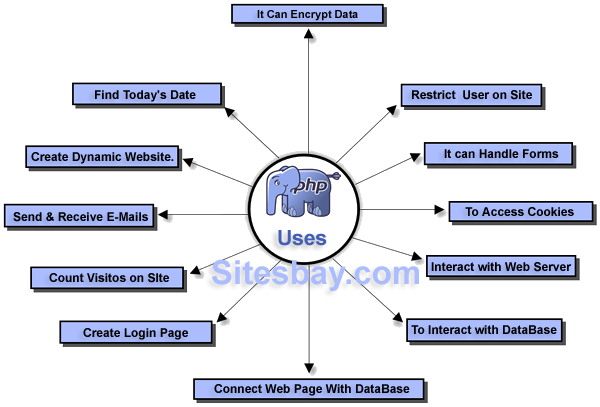 Uses of php
It is used for create dynamic website.
To Interacting with web server (Apache etc)
To interacting with any back-end / database server e.g. MySQL
To interaction with the native file system of the OS
To implement the business logical layers (one or more)
It can Encrypt Data
Access Cookies variable and set cookies
Using php you can restrict user to access specific web page
PHP usually used to output HTML code to the browser
Used for connect web application with DataBase
It is used for send and receive E-Mails.
You can use PHP to find today's date, and then build a calendar for the month.
If you host banner advertisements on your website, you can use PHP to rotate them randomly.
Using php you can count your visitors on your website.
You can use PHP to create a special area of your website for members.
Using php you can create login page for your user.
Using php you can add, delete, modify elements within your database thru PHP. Access cookies variables and set cookies.
Using PHP, you can restrict users to access some pages of your website.
It can encrypt data.
PHP performs system functions, i.e. from files on a system it can create, open, read, write, and close them.
It can handle forms, i.e. gather data from files, save data to a file.
Why use php
It runs on different platforms such as Windows, Linux, Unix, etc.
This language is very simple to learn and runs efficiently on the server side.
It is compatible with almost all servers used today,such as Apache, IIS, etc.
It supports many databases such as MySQL, Oracle, PostgreSQL etc.
It is perfectly suited for Web development and can be embedded directly into the HTML code.
PHP can also be used to create dynamic web pages.
It is often used together with Apache (web server) on various operating systems. It can be also used with Microsoft's IIS on Windows.
It is open source and it is free downloadable
I hope you enjoy with this uses of php tutorial.
---
---
Magenet is best Adsense Alternative here we earn $2 for single link, Here we get links ads. Magenet