Features of Android
---
---
Features of Android
Android is an open source and Linux-based Operating System for mobile devices such as smartphones and tablet computers. Android was developed by the Open Handset Alliance, led by Google, and other companies.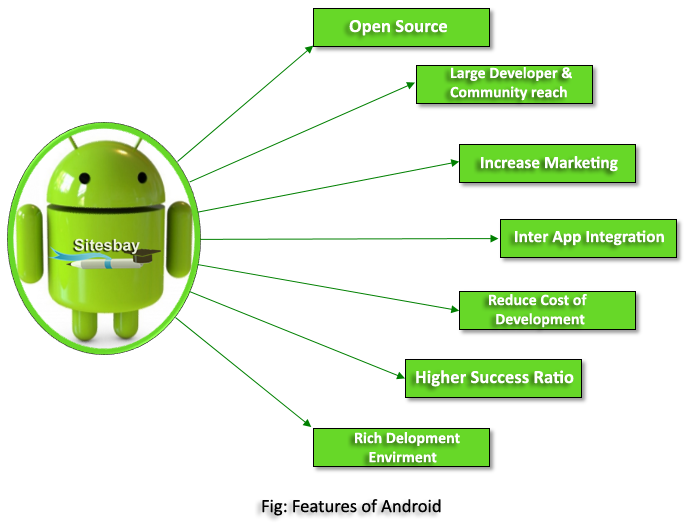 Android is a powerful operating system competing with Apple 4GS and supports great features. Few of them are listed below;
Simple and User-Friendly Interface: The main features of Android is it is very simple and easy to use and andoid have user-friendly.
Fast Loading Speed: Android application loading time is very fast.
Supporting the Multiple Languages: It support multiple language.
security: Android is design on Linux platform so it provide high security.
Beautiful UI: Android OS basic screen provides a beautiful and intuitive user interface.
Connectivity: GSM/EDGE, IDEN, CDMA, EV-DO, UMTS, Bluetooth, Wi-Fi, LTE, NFC and WiMAX.
Storage: SQLite, a lightweight relational database, is used for data storage purposes.
Media support: H.263, H.264, MPEG-4 SP, AMR, AMR-WB, AAC, HE-AAC, AAC 5.1, MP3, MIDI, Ogg Vorbis, WAV, JPEG, PNG, GIF, and BMP.
Messaging: It support SMS and MMS
Web browser: Based on the open-source WebKit layout engine, coupled with Chrome's V8 JavaScript engine supporting HTML5 and CSS3.
Multi-touch: Android has native support for multi-touch which was initially made available in handsets such as the HTC Hero.
Multi-tasking: User can jump from one task to another and same time various application can run simultaneously.
Resizable widgets: Widgets are resizable, so users can expand them to show more content or shrink them to save space.
Multi-Language: Supports single direction and bi-directional text.
GCM: Google Cloud Messaging (GCM) is a service that lets developers send short message data to their users on Android devices, without needing a proprietary sync solution.
Wi-Fi Direct: A technology that lets apps discover and pair directly, over a high-bandwidth peer-to-peer connection.
Android Beam: A popular NFC-based technology that lets users instantly share, just by touching two NFC-enabled phones together.
---
---
Magenet is best Adsense Alternative here we earn $2 for single link, Here we get links ads. Magenet