Structure of Html Program
---
---
Structure of Html Program
Every Html program contain two parts they are;.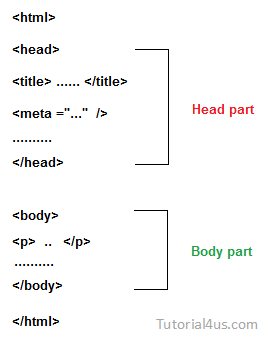 Head part
By using head part you can provide following information related to that web page.
Provide title of that page.
Description about that page.
What content inside that web page ?
Who develop that page, (author name) ?
Refresh that page after particular interval of time.
When page will be expire ?
Google Spider follow that page or not ?
Keyword for search that page by search engine.
Note: For adding all above things you need meta tag (<meta>) we will discuss later.
Body part
Body part contains the actual information which is display on web page.
---
---
Magenet is best Adsense Alternative here we earn $2 for single link, Here we get links ads. Magenet