Maintenance Phase in SDLC
---
---
Maintenance Phase in SDLC
Once the system is deployed, and customers start using the developed system, following 3 activities occur
Bug fixing: bugs are reported because of some scenarios which are not tested at all.
Upgrade: Upgrading the application to the newer versions of the Software.
Enhancement: Adding some new features into the existing software.
The main focus of this SDLC phase is to ensure that needs continue to be met and that the system continues to perform as per the specification mentioned in the first phase. Software maintenance is widely accepted part of SDLC now a days. It stands for all the modifications and updations done after the delivery of software product. There are number of reasons, why modifications are required, some of them are briefly mentioned below;
Market Conditions: Policies, which changes over the time, such as taxation and newly introduced constraints like, how to maintain bookkeeping, may trigger need for modification.
Client Requirements: Over the time, customer may ask for new features or functions in the software.
Host Modifications: If any of the hardware and/or platform (such as operating system) of the target host changes, software changes are needed to keep adaptability.
Organization Changes: If there is any business level change at client end, such as reduction of organization strength, acquiring another company, organization venturing into new business, need to modify in the original software may arise.
Types of Maintenance
In a software lifetime, type of maintenance may vary based on its nature. It may be just a routine maintenance tasks as some bug discovered by some user or it may be a large event in itself based on maintenance size or nature. Following are some types of maintenance based on their characteristics: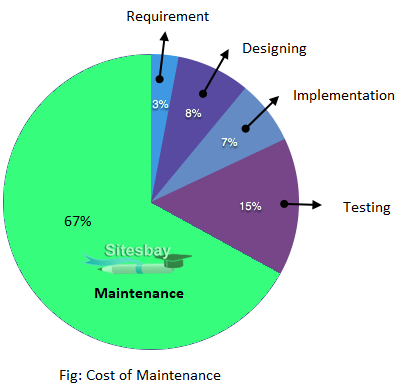 Corrective Maintenance: This includes modifications and updations done in order to correct or fix problems, which are either discovered by user or concluded by user error reports.
Adaptive Maintenance: This includes modifications and updations applied to keep the software product up-to date and tuned to the ever changing world of technology and business environment.
Perfective Maintenance: This includes modifications and updates done in order to keep the software usable over long period of time. It includes new features, new user requirements for refining the software and improve its reliability and performance.
Preventive Maintenance: This includes modifications and updations to prevent future problems of the software. It aims to attend problems, which are not significant at this moment but may cause serious issues in future.
Cost of Maintenance: Reports suggest that the cost of maintenance is high. A study on estimating software maintenance found that the cost of maintenance is as high as 67% of the cost of entire software process cycle.
---
---