Thin Driver in JDBC
---
---
Thin Driver in JDBC
The thin driver converts JDBC calls directly into the vendor-specific database protocol. That is why it is known as thin driver. It is fully written in Java language.
This thin driver uses the following three information to connect with a database.
Ip address of a machine (system), where the database server is running.
Port number of the database server.
Database name, also called SID (service ID).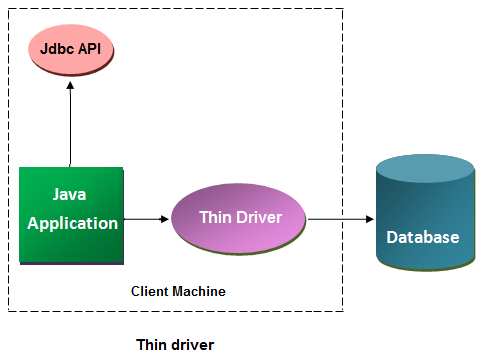 Advantage of Thin driver
Thin driver is the fastest driver among all Jdbc drivers.
No software is required at client side or server side.
It is portable driver because it is platform independent.
It can be used to connect an applet with the database.
Disadvantage of Thin driver
Thin driver is a database dependent driver.
Why thin driver is database dependent driver ?
Because thin driver internally uses native protocol. Native protocol is a server dependent protocol it means the protocol can establish connection with a particular server only.
Thin driver connect with database
Oracle corporation has provided two JDBC driver software for connection java application to a database of oracle server.
Oracle oci driver.
Oracle thin driver.
The following are the connection properties of oracle thin driver.
| | |
| --- | --- |
| driver name: | Oracle.Jdbc.OracleDriver |
| url: | Jdbc:Oracle:thin@ipaddress:sid |
| name | system |
| password | tiger |
---
---