History of Java
---
---
History of Java
Java language developed by company Sun Microsystems and the creator is Jamesh Gosling.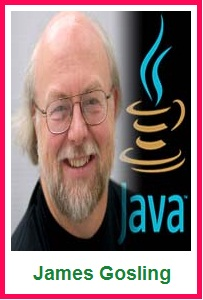 Story behind development of Java
Sun Microsystems Started by a group of the students who are studing in Standard University. These people found the problem in their room with electronic consumable remote. That means one electronic consumable control doesn't work on another electronics consumable. These people want to develop a common remote control which is controlling all the electronic consumables so they contact James Gosling and requested for the projects. Sun Microsystems started by a group of students out of them one person also Indian whose name Vinode Khosla.
James Gosling and his team members given the project name as Green started in the year 1990 and common remote control completed in the year 1992.
The James Gosling team develops a new language called as OAK But this name is already selected by any other company renamed as Java, but Java has no meaning representation of Island in Indonesia. The unofficial abbreviation of Java is Just Another Virtual Analyzer (JAVA).
Java Version History
Now a day 8 versions of java are released, which is listed below with realizing date.
JDK Alpha and Beta (1995)
JDK 1.0 (23rd Jan, 1996)
JDK 1.1 (19th Feb, 1997)
J2SE 1.2 (8th Dec, 1998)
J2SE 1.3 (8th May, 2000)
J2SE 1.4 (6th Feb, 2002)
J2SE 5.0 (30th Sep, 2004)
Java SE 6 (11th Dec, 2006)
Java SE 7 (28th July, 2011)
Java SE 8 (18th March, 2014)
---
---
Magenet is best Adsense Alternative here we earn $2 for single link, Here we get links ads. Magenet