Features of Cloud Computing
---
---
Features of Cloud Computing
Cloud Computing is getting more and more popularity day by day. The main reason behind this is need of the place to store their data. There are many services and features of cloud computing are given below.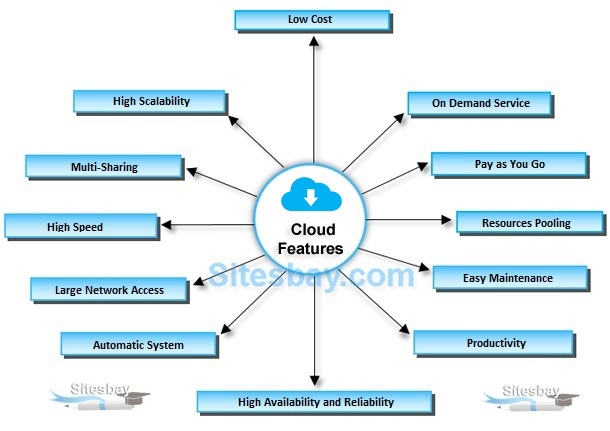 Important Features of Cloud Computing
Low Cost
Secure
Agility
High availability and reliability
High Scalability
Multi-Sharing
Device and Location Independence
Maintenance
Services in pay-per-use mode
High Speed
Global Scale
Productivity
Performance
Reliability
Easy Maintenance
On-Demand Service
Large Network Access
Automatic System
Resources Pooling
Pay as you go
Low Cost
Cloud computing eliminates the capital expense of buying hardware and software and setting up and running on-site data centers.
On-Demand Service
This is most important and valuable features of cloud computing. On-demand computing is a delivery model in which computing resources are made available to the user as needed.
Global scale
The benefits of cloud computing services include the ability to scale elastically. In cloud speak, that means delivering the right amount of IT resources-for example, more or less computing power, storage, bandwidth-right when it is needed and from the right geographic location.
Reliability
Cloud computing makes data backup, disaster recovery and business continuity easier and less expensive because data can be mirrored at multiple redundant sites on the cloud provider's network.
---
---
Magenet is best Adsense Alternative here we earn $2 for single link, Here we get links ads. Magenet