Types of Cloud Computing
---
---
Types of Cloud Computing
Cloud Computing means storing and accessing data or applications over the Internet. This can be done in three ways 1. Public Cloud Computing 2. Private Cloud Computing 3. Hybrid cloud Computing. Below we will look at their advantages and disadvantages. There are three types of cloud computing.
Types of Cloud Computing
Public Cloud Computing
Private Cloud Computing
Hybrid Cloud Computing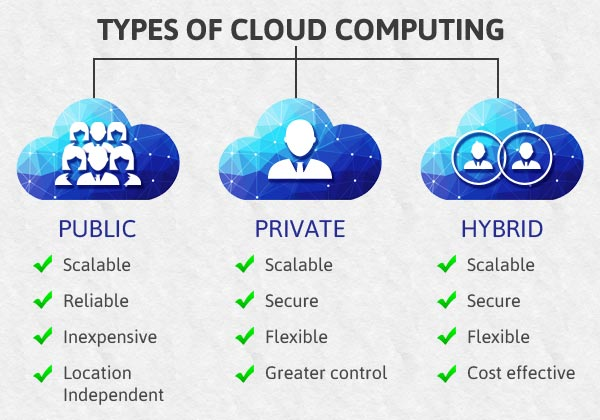 Public Cloud Computing
A cloud platform that is based on standard cloud computing model in which service provider offers resources, applications storage to the customers over the internet is called as public cloud computing. The hardware resources in public cloud are shared among similar users and accessible over a public network such as the internet. Most of the applications that are offered over internet such as Software as a Service (SaaS) offerings such as cloud storage and online applications uses Public Cloud Computing platform. Budget conscious startups, SMEs not keen on high level of security features looking to save money can opt for Public Cloud Computing.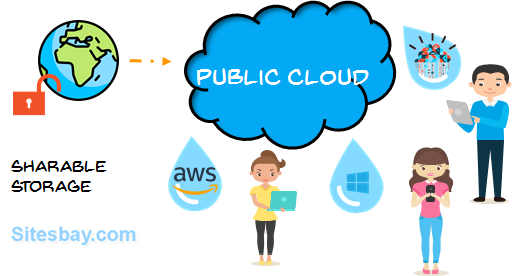 Advantage of Public Cloud Computing
It offers greater scalability
Its cost effectiveness helps you save money.
It offers reliability which means no single point of failure will interrupt your service.
Services like SaaS, (Paas), (Iaas) are easily available on Public Cloud platform as it can be accessed from anywhere through any Internet enabled devices.
It is location independent – the services are available wherever the client is located.
Disadvantage of Public Cloud Computing
No control over privacy or security
Cannot be used for use of sensitive applications
Lacks complete flexibility as the platform depends on the platform provider
No stringent protocols regarding data management
Private Cloud Computing
A cloud platform in which a secure cloud based environment with dedicated storage and hardware resources provided to a single organization is called Private Cloud Computing. The Private cloud can be either hosted within the company or outsourced to a trusted and reliable third-party vendor. It offers company a greater control over privacy and data security. The resources in case of private cloud are not shared with others and hence it offer better performance compared to public cloud. The additional layers of security allow company to process confidential data and sensitive work in the private cloud environment.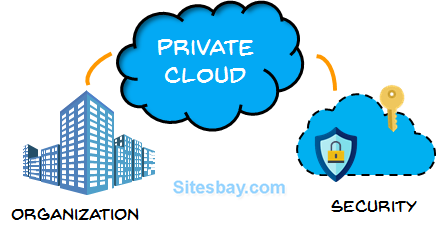 Advantage of Private Cloud Computing
Offers greater Security and Privacy
Offers more control over system configuration as per the company's need
Greater reliability when it comes to performance
Enhances the quality of service offered by the clients
Saves money
Disadvantage of Private Cloud
Expensive when compared to public cloud
Requires IT Expertise
Hybrid Cloud Computing
Hybrid Cloud computing allows you to use combination of both public and private cloud. This helps companies to maximize their efficiency and deliver better performance to clients.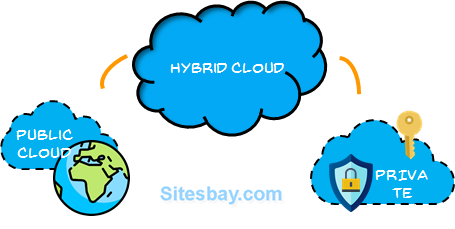 In this model companies can use public cloud for transfer of non-confidential data and switch on to private cloud in case of sensitive data transfer or hosting of critical applications. This model is gaining prominence in many business as it gives benefits of both the model.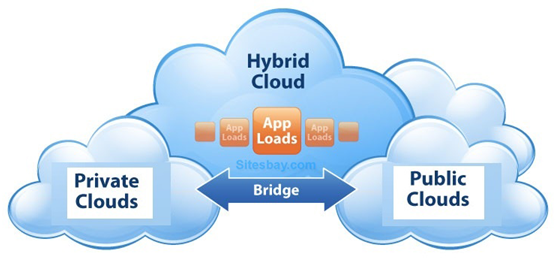 Advantage of Hybrid Cloud Computing
It is scalable
It is cost efficient
Offers better security
Offers greater flexibility
Disadvantage of Hybrid Cloud Computing
Infrastructure Dependency
Possibility of security breach through public cloud
---
---
Magenet is best Adsense Alternative here we earn $2 for single link, Here we get links ads. Magenet