Disadvantage of Computer
---
---
What are Disadvantage of Computer
Using computer can make you physically weak and lazy. Doing extra unwanted activities on computers can waste your time. By using computers for a long time, your blood circulation can become poor due to less physical activities. It can cause the disturbance in one's meal. Can cause health problems like bad postures, aches, obesity, eye problems, etc. Also, it has a bad effect on education if it is used unproperly. There are some Disadvantage of computer are;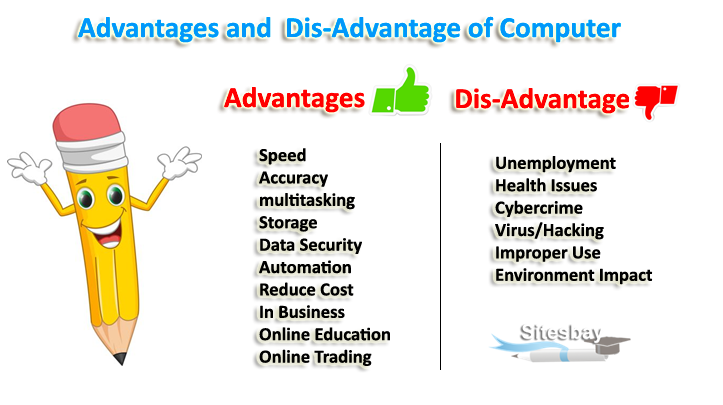 No I.Q
A computer is a machine that has no intelligence to perform any task.
Each instruction has to be given to computer.
A computer cannot take any decision on its own.
Dependency
It functions as per a user's instruction, so it is fully dependent on human being
3 Environment
The operating environment of computer should be dust free and suitable.
No Feeling
Computers have no feelings or emotions.
It cannot make judgment based on feeling, taste, experience, and knowledge unlike a human being.
Disadvantage of computer
While another computer is making people smart, another one is making more ill use of it
More use of computer and mobile is proving to be harmful to health
More frequent damage to the eyes is due to continuous viewing on mobile and computer screen.
People have stopped meeting, more people like to chat on social networking sites like Facebook and Whats App than anyone visiting their home, even 4 people living in a house from their mobile phones Only stick.
In large companies and factories, many laborers have started working on computers and robots, which has also increased unemployment.
If you do not use internet banking carefully, there is a risk of your personal data being stolen, which causes many users to suffer financial loss.
Similarly, on the social networking site, even if not working carefully, Cheating through the Internet has increased in a big way.
It reduces the face to face communication within the family because everyone is busy with their own life.
Using computers for long time cause irritation in your eyes and neck.
Carried away from your main goal.
Less interaction with others.
Using computer can make you physically weak and lazy.
Doing extra unwanted activities on computers can waste your time.
By using computers for a long time, your blood circulation can become poor due to less physical activities.
It can cause the disturbance in one's meal.
Can cause health problems like bad postures, aches, obesity, eye problems, etc.
Also, it has a bad effect on education if it is used unproperly.
---
---