What is Intranet
---
---
What is Intranet
The intranet is a private network that belongs to a particular organization. It is designed for the exclusive use of an organization and its associates such as employees, customers, and other authorized people. It offers a secure platform to convey information and share data with the authorized users. Confidential information, database, links, forms, and applications can be made available to the staff through the intranet. So, it is like a private internet or an internal website that is operating within an organization to provide its employees access to its information and records. Each computer in intranet is identified by a unique IP Address.
Benefits of Intranet
Here we discuss about Uses of Intranet or Benefits of Intranet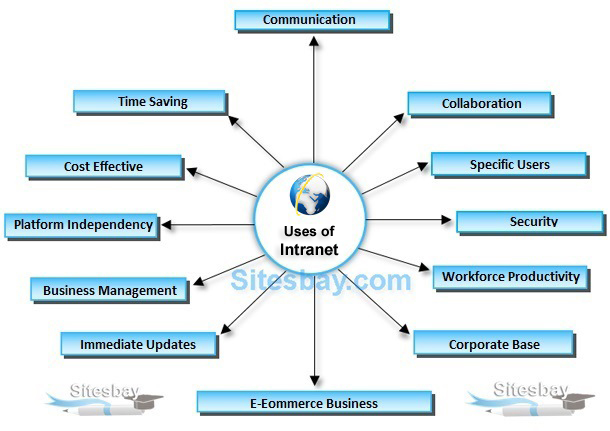 Intranet is very efficient and reliable network system for any organization. It is beneficial in every aspect such as collaboration, cost-effectiveness, security, productivity and much more.
Communication :Intranet offers easy and cheap communication within an organization. Employees can communicate using chat, e-mail or blogs.
Time Saving :Information on Intranet is shared in real time.
Collaboration :Information is distributed among the employees as according to requirement and it can be accessed by the authorized users, resulting in enhanced teamwork.
Platform Independency: Intranet can connect computers and other devices with different architecture.
Cost Effective :Employees can see the data and other documents using browser rather than printing them and distributing duplicate copies among the employees, which certainly decreases the cost.
Workforce Productivity :Data is available at every time and can be accessed using company workstation. This helps the employees work faster.
Business Management: It is also possible to deploy applications that support business operations.
Security: Since information shared on intranet can only be accessed within an organization, therefore there is almost no chance of being theft.
Specific Users: Intranet targets only specific users within an organization therefore, once can exactly know whom he is interacting.
Immediate Updates: Any changes made to information are reflected immediately to all the users.
Differene Between Internet and Intranet
| Intranet | Internet |
| --- | --- |
| Localized Network. | Worldwide Network |
| Doesn't have access to Intranet | Have access to Internet |
| More Expensive | Less Expensive |
| More Safe | Less Safe |
| More Reliability | Less Reliability |
---
---