Input Devices of Computer
---
---
Input Devices of Computer
You can use an input device to put information into the computer. An input device allows you to communicate with a computer. An input device is a hardware that can be connected to other devices for use or can work alone.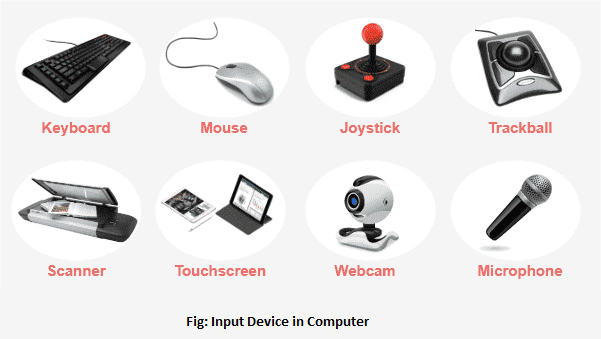 Input device enables the user to send data, information, or control signals to a computer. The Central Processing Unit (CPU) of a computer receives the input and processes it to produce the output. Some of the popular input devices are;
Keyboard
Mouse
Scanner
Joystick
Light Pen
Digitizer
Microphone
Magnetic Ink Character Recognition (MICR)
Optical Character Reader (OCR)
Bar codes Reader
Magnetic reader
Smart cards
Voice data entry
Sound capture
Video capture
Keyboard

The keyboard is one of the primary input devices, which helps in entering data and commands in a computer. The layout of the keyboard is almost identical to a traditional typewriter with additional keys that help in performing specific tasks. A normal keyboard usually has a variety of keys, such as alphabetic character keys, function keys, number keys, arrow keys, and control keys.
Mouse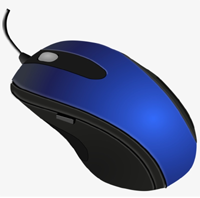 A mouse is the most common and very popular pointing device that helps interact with a computer through a process called 'point and click'. This is mainly used to move a cursor on the computer's screen and click on the corresponding object using its buttons (usually left, right, and middle key roller buttons)
Scanner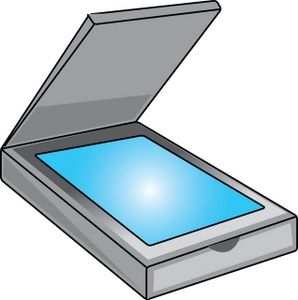 A scanner is an essential input device that allows us to convert a hard copy document into a digital file (.jpeg, .png, .pdf, etc.). It basically uses optical technology that reads characters or pictures from a paper and transfers them to a computer's drive for further manipulation. Like other images, the scanned image can also be saved, edited, emailed, and printed whenever we want
Joystick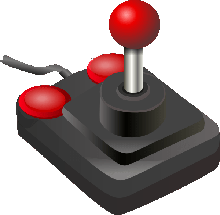 Joysticks are widely used to play games on a computer. They help control the characters and vehicles of the game. It can be a standalone device or can be included with multiple buttons and triggers to add options to perform more in-game features.
Digital Camera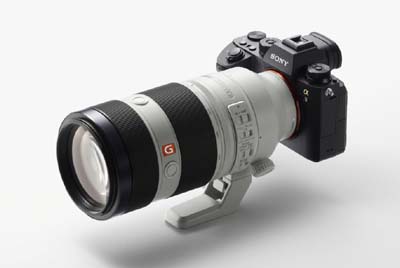 A digital camera is an input device that is used to capture images and video in digital form. This allows users to store the captured media files in a memory card and transfer them to the computer. Digital cameras use an image sensor chip to capture images rather than the film used by traditional cameras of the old days.
Light Pen
A light pen is another pointing device that has the same structure as a pen. It is a light-sensitive device consisting of a photocell and an optical system placed in a small tube. It is mainly used to select on-screen items, draw pictures, and write independently in document files using a computer screen.
Digitizer
The digitizer reads the signals and converts graphics to binary input. The same drawing is displayed on a computer screen in real-time and can be saved, edited, emailed, or printed. Besides, digitizers can also be used to signatures or texts as handwritten texts or computer-typed texts
Track Ball
The trackball is a pointing device that is used to perform similar tasks as a mouse. However, its mechanical structure is slightly different from that of the mouse. Unlike a mouse, the trackball does not need to be moved around the surface. Instead, the user is required to rotate a ball by turning the fingers, which moves the pointer accordingly. The ball is inserted halfway into an instrument and may contain various shapes, such as a ball, square, or button.
---
---