Secondary Memory
---
---
What is Secondary Memory in Computer
Secondary Memory also known as external memory or non-volatile. It is slower than main memory. These are used for storing data/Information permanently. CPU directly does not access these memories instead they are accessed via input-output routines. Contents of secondary memories are first transferred to main memory, and then CPU can access it. For example : disk, CD-ROM, DVD etc.
Uses of Secondary Media
Permanent Storage: Primary Memory (RAM) is volatile, i.e. it loses all information when the electricity is turned off, so in order to secure the data permanently in the device, Secondary storage devices are needed.
Portability: Storage medium, like the CDs, flash drives can be used to transfer the data from one devive to another.
Characteristic of Secondary Memory
These are magnetic and optical memories.
It is known as backup memory.
It is non-volatile memory.
Data is permanently stored even if power is switched off.
It is used for storage of data in a computer.
Computer may run without secondary memory.
Slower than primary memories.
Example of Secondary Memory
The hard disk, optical disk and pen drive are some of the popular examples of secondary memory or storage of computer.
Hard disk
It is a rigid magnetic disc that is used to store data. It permanently stores data and is located within a drive unit.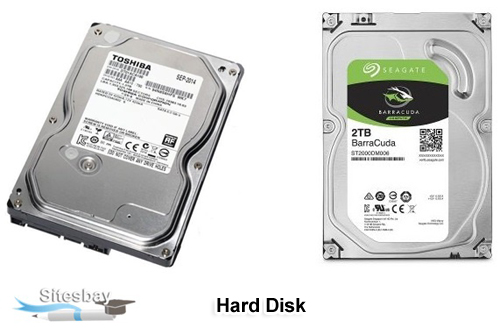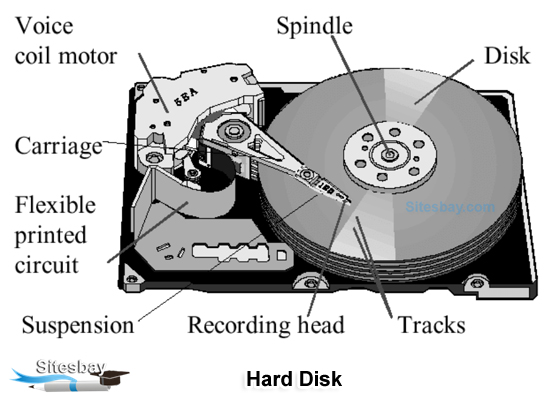 Optical disk
It has a plastic coating. The data in optical disc is recorded digitally and the recorded data is read with laser that scans its surface.
Pen drive
It is a compact secondary storage device. It is connected to a computer through a USB port to store or retrieve data..
---
---