Difference Between LAN, MAN and WAN
---
---
Difference Between LAN, MAN and WAN
The geographical area covered by LAN is small, whereas, MAN covers relatively large and WAN covers the greatest of all. LAN is confined to schools, hospitals or buildings, whereas, MAN connects small towns or Cities and on the other hand, WAN covers Country or a group of Countries.
LAN (Local Area Network)
LAN: LAN is Local Area Network. As the name suggests, LAN is a very small area (a college building, house or office) where a number of computers are connected to each other via centralized device called Switch or Hub which is connected to the Internet. You can communicate with each other in LAN using a Switch or Hub. A XSwitch is an Intelligent Device while a Hub is not an Intelligent Device.
Working of LAN
The request made by computers in a LAN network maybe for some resources (printer, fax, etc).
And these requests are fulfilled by the Switch/Hub.
If the resource is available then that resource is allocated to that particular computer.
If the resource is not available then that computer is kept in a queue.
MAN (Metropolitan Area Network)
MAN: A metropolitan area network (MAN) is a network that interconnects users with computer resources in a geographic area or region larger than that covered by even a large local area network (LAN) but smaller than the area covered by a wide area network (WAN).
Use of MAN Technology
MANs are particularly useful for the purpose of sharing resources specific to regions, assisting in the quicker and segmented flow of data and information. Furthermore, MANs can connect multiple computers and networks to serve as an Internet Service Provider. This is because of which the internet service provided by a telephone company falls under the category of a MAN connection. A Metropolitan Area Network is smaller than the area covered through WANs. It is much bigger than the connectivity capabilities of a LAN.
Working Methodology of MAN
The working mechanism of a MAN is quite similar to that of an Internet Service Provider. However, it is not owned by a single organization. A MAN delivers a joint and shared network connection to all of its users based on a data link layer. This data link layer is classified as a Layer 2 of the OSI model. It is also known as Open Systems Interconnection.
WAN (Wide Area Network)
WAN: WAN is Wide Area Network, which spans to multiple networks and consists of multiple local networks. Usually, WAN is a connection of multiple Metropolitan Area Network(MAN), or in simple terms, internet is an example of WAN.
Difference Between LAN, MAN and WAN
| LAN | MAN | WAN |
| --- | --- | --- |
| LAN stands for Local Area Network. | MAN stands for Metropolitan Area Network. | WAN stands for Wide area network. |
| LAN's ownership is private. | MAN's ownership can be private or public. | While WAN also might not be owned by one organization. |
| The transmission speed of LAN is high. | While the transmission speed of MAN is average. | Whereas the transmission speed of WAN is low. |
| The propagation delay is short in LAN. | There is moderate propagation delay in MAN. | Whereas there is long propagation delay. |
| There is less congestion in LAN. | While there is more congestion in MAN. | Whereas there is more congestion than MAN in WAN. |
| LAN's design and maintenance is easy. | While MAN's design and maintenance is difficult than LAN. | WAN's design and maintenance is also difficult than LAN as well MAN. |
| There is more fault tolerance in LAN. | While there is less fault tolerance. | In WAN, there is also less fault tolerance. |
| Used in College, School, Hospital. | Used in Small towns, City. | Used in Country/Continent. |
| Allows Single pair of devices to communicate. | Allows Multiple computers can simultaneously interact. | Allows A huge group of computers communicate at the same time. |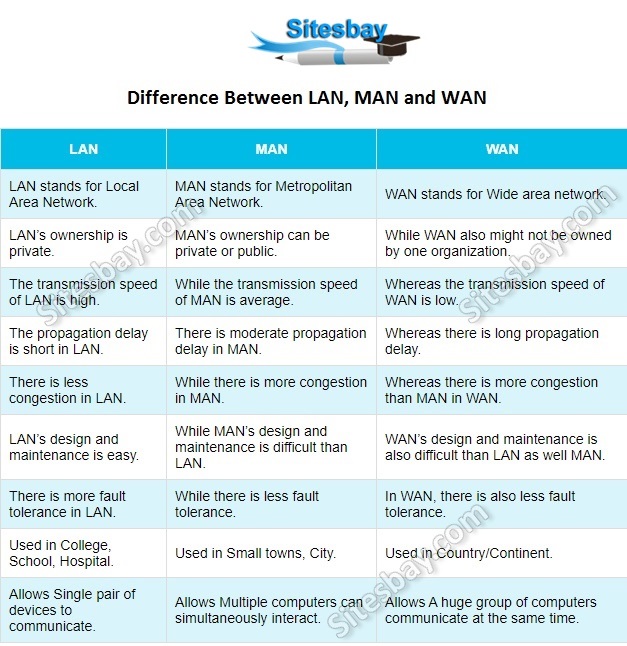 ---
---
Magenet is best Adsense Alternative here we earn $2 for single link, Here we get links ads. Magenet