What is WAN
---
---
What is Wide Area Network
DNS stands for Domain Name System. DNS is a directory service that provides a mapping between the name of a host on the network and its numerical address. DNS is a TCP/IP protocol used on different platforms.
The Domain Name System (DNS) is the phonebook of the Internet. Humans access information online through domain names, like nytimes.com or espn.com. Web browsers interact through Internet Protocol (IP) addresses. DNS translates domain names to IP addresses so browsers can load Internet resources.
Each device connected to the Internet has a unique IP address which other machines use to find the device. DNS servers eliminate the need for humans to memorize IP addresses such as 192.168.1.1 (in IPv4).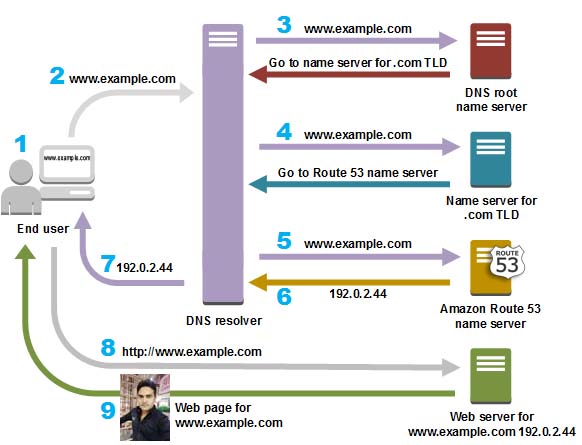 How does DNS work?
The process of DNS resolution involves converting a hostname (such as www.example.com) into a computer-friendly IP address (such as 192.168.1.1). When a user wants to load a webpage, a translation must occur between what a user types into their web browser (example.com) and the machine-friendly address necessary to locate the example.com webpage. There are 4 DNS servers involved in loading a webpage
DNS recursor
Root nameserver
TLD nameserver
Authoritative Nameserver
DNS recursor: The DNS recursor is a server designed to receive queries from client machines through applications such as web browsers.
Root Nameserver: The root server is the first step in translating (resolving) human readable host names into IP addresses.
TLD Nameserver: The top level domain server (TLDThis nameserver is the next step in the search for a specific IP address, and it hosts the last portion of a hostname (In example.com, the TLD server is "com")
Authoritative Nameserver: The authoritative nameserver is the last stop in the nameserver query. If the authoritative name server has access to the requested record, it will return the IP address for the requested hostname back to the DNS Recursor (the librarian) that made the initial request.
---
---
Magenet is best Adsense Alternative here we earn $2 for single link, Here we get links ads. Magenet