Why to Avoid Copyright Content
---
---
Why to Avoid Copyright Content
This is a general topic now a day as every one is talking about copyright, and you also heard many times about copyright. But here what is copyright, copyright is nothing but it is an ownership on your content or properties this make any things as a private properties not public. When ever you copy any data or content from other sites which is copyright content Google or other search engine easily find this, so do not waste your time on copy and paste write a own content on blog. These day Google use Google panda which is easy identify whenever your copy data or content from other websites. This is also harmful for your sites or blog, due to this your page rank will decrease if you are using blogger then banned or block your blogger account.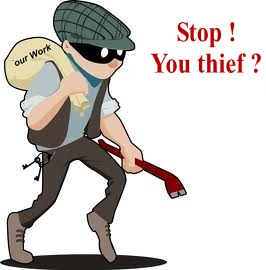 This is short time Benefit
First draw back is that you can not get advantage of such content for long time may be 6 or 8 month no more, after a few months you will penalized by Google panda. Another reason is if you are using Google Adsense then your Adsense account will be block.
Copyright owner fire case on against you (DMCA)
Owner of that content submit report against your websites or blog to DMCA (Digital Millennium Copyright Act), It is Google policies so ti's will take action against your website and they will drop down your sites, If your are using blogger then remove form blogger.
Decrease your page rank
If your are use copyright content on your sites or blog then search never give a good page rank of your sites, and also drop down your page rank.
Caught by Other viewer
Viewer are visits a number of sites in a day so if any one find same content on previous visits sites then they give you bad impression, And next time then avoid your sites or blog.
Wastage of time
If you are use copyright content then your get benefits in starting months but not longer, If you have good knowledge of website then i will say you, after 6 to 7 months you can earn money not in starting day, So when your time for earning money that time you get nothing. That means your all time is waste.
Not get Adsense Approval
I hope you are already heard about Adsense which is high PPC paying Advertising sits. Adsense never give approval of that sites which have mostly copied contents and images form other sites.
If your are write original, unique and valuable content on your blog or sites then believe me you will get all other things like more earning, good traffic, high page ranks etc
Good Luck.
---
---
Magenet is best Adsense Alternative here we earn $2 for single link, Here we get links ads. Magenet